STAR Housing Stats | August 2023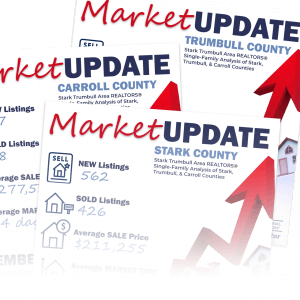 The STAR August 2023 Stats are now available for you to review and/or share. The images below represent a Single-Family & TownHome Listing Analysis of Stark, Trumbull, & Carroll Counties.
According to the Monthly Indicator Report published by MLS Now, September 11, 2023.
"Higher mortgage rates, along with elevated sales prices and a lack of housing inventory, have continued to impact market activity during the summer homebuying season. The average 30-year fixed-rate mortgage has remained above 6.5% since May, recently hitting a two-decade high in August, according to Freddie Mac. As a result, existing-home sales have continued to slow nationwide, dropping 2.2% month-over-month as of last measure, with sales down 16.6% compared to the same time last year, according to the National Association of REALTORS® (NAR)." CLICK HERE to download the complete Monthly Indicator Report
Quick Facts
Residential activity in Carroll, Stark, and Trumbull counties composed of single family and townhouse/condo properties. Percent changes are calculated using rounded figures. Comparison August 2022 vs. August 2023.
- 14.1%

+ 3.4%

- 22.8%

Change in
Closed Sales
All Properties
Change in
Median Sales Price
All Properties
Change in
Homes for Sale
All Properties
These statistics are sourced from MLS Now and were current as of September 11, 2023. They are deemed accurate, but not guaranteed.