STAR Celebrates our Commitment to Sustainability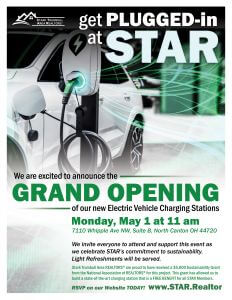 STAR announces the grand opening of our Electric Vehicle Charging Stations at the Stark Trumbull Area REALTORS® North Canton office. We invite everyone to attend this event as we celebrate our commitment to sustainability and the future of electric vehicles.
STAR received a $5,000 Sustainability Grant from the National Association of REALTORS® for this project. This grant has allowed us to build a state-of-the-art charging station that is free for all REALTORS®.
Investing in electric vehicles and charging infrastructure is critical for the future of our planet. By reducing our reliance on fossil fuels, we can help mitigate the effects of climate change and ensure a healthier and more sustainable future for future generations.
As REALTORS®, we have a unique opportunity to lead by example. We can and should promote sustainable practices in our communities. By investing in electric vehicles and supporting the growth of charging infrastructure, we can demonstrate our commitment to sustainability.
MORE on NAR's Sustainability Grant Program