STAR Housing Stats | October 2022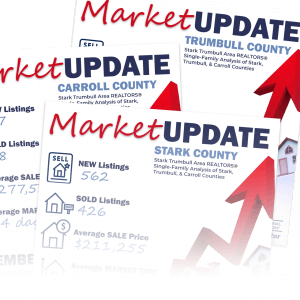 The STAR Oct 2022 Stats are now available for you to review and/or share. The images below represent a Single-Family & TownHome Listing Analysis of Stark, Trumbull, & Carroll Counties.
Quick Facts
Residential activity in Carroll, Stark, and Trumbull counties composed of single family and townhouse/condo properties. Percent changes are calculated using rounded figures. Comparison October 2021 vs. October 2022.
- 21.7%

- 3.0%

- 7.8%

Change in
Closed Sales
All Properties
Change in
Median Sales Price
All Properties
Change in
Homes for Sale
All Properties
These statistics are sourced from MLS Now and were current as of November 11, 2022. They are deemed accurate, but not guaranteed.